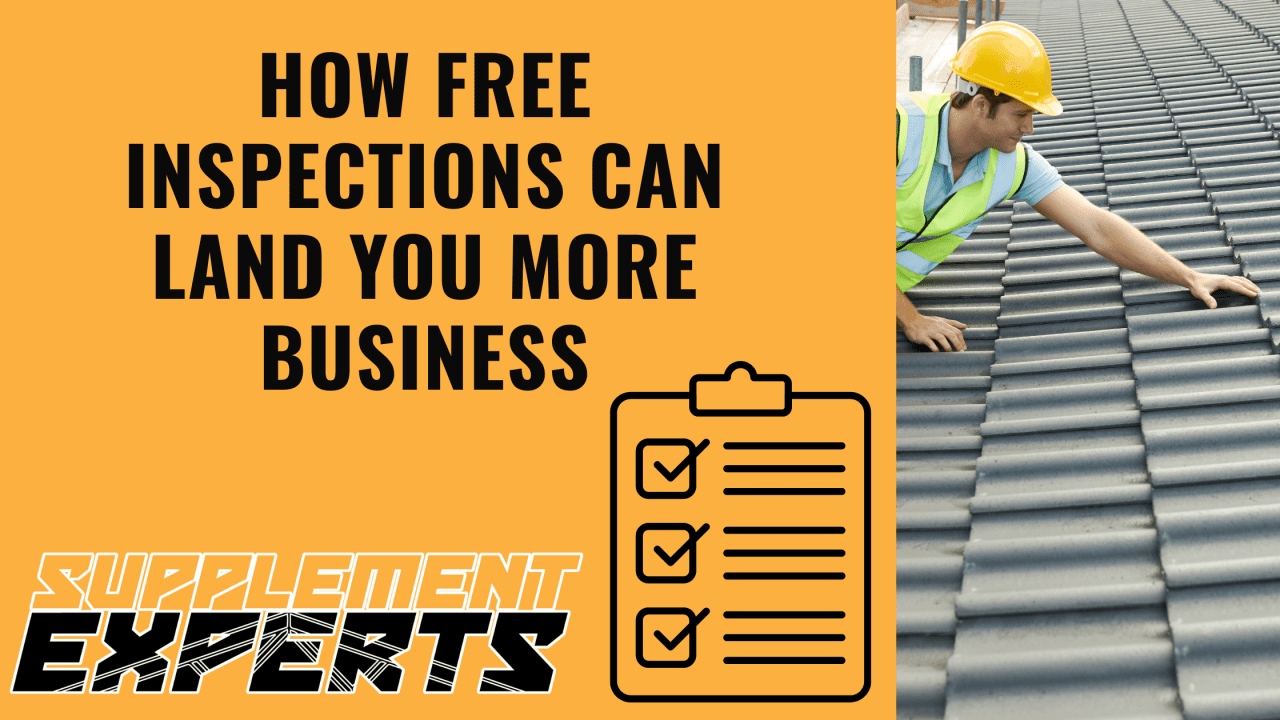 How Free Inspections Can Land You More Business
Roofing contractors grow by increasing their business while providing outstanding customer service offerings. Any successful contractor knows that offering free inspections is one of the easiest ways to get customers through the door. Companies that provide these inspections get closer to homeowners quicker. They start as an adviser, letting potential customers know what damage their home has sustained, but often this will quickly lead to a project. Continue reading to learn how providing free inspections can lead to more money in your pocket and more clients!
What is a Free Inspection?
Inspections can vary significantly from industry to industry and depending on what problem you are assessing. A free inspection is an agreement to analyze a home or building for damages without cost. You should also remember that an inspection is not the same as an estimate. A roof inspection consists of a licensed contractor visiting the home to diagnose the roof's condition and determine what work is needed to fix the problems. They dictate whether a repair, upgrade, or replacement is required. No estimate is given at this time.
Provide Detailed Inspection Reports
After finishing the inspection, producing a thorough roof system report is a great way to make an impression on a homeowner and stand out from other businesses. These reports grant instant credibility to your work and allow the homeowner to see the problems and make their own informed decisions on what to do next. These reports should be as in-depth as possible and provide conditions of the roof system's membrane, flashings, fascia, perimeter edge, joint covers, pitch pockets, and penetrations. Your report should also educate the owner on the exact area of recommended repairs and a prioritized list of the repairs needed. 
Ongoing Service Agreements
Another essential aspect that should be included in the inspection report is an ongoing roof system maintenance plan or service agreement that will help extend the longevity of the roof system. If you want to stand out against competitors, consider offering features in the service agreement, such as a two-hour emergency arrival time and locked-in rates that customers can incorporate into their budget. 
Prepare for More Inspections
As the demand for roof inspections increases now that storm season has ended, it is essential to manage them efficiently while maintaining customer service and quality workmanship that keeps customers happy. You should always follow up with inspection inquiries as soon as possible to ensure you don't miss out on a potential client. You should also track the results of these inspections to see how many are converted into customers. Another tip to keep things organized and efficient for you and the homeowner is to have a template of inspection results to include pictures, dates, and recommendations for each problem. Another template to have is a service agreement that features the various maintenance options available. 
Who We Are
At Supplement Experts, we offer expert advice and assistance in insurance supplementation for residential and commercial roofing projects, window replacement, siding replacement, and any painting project. Leave the stressful back and forth with insurance claims to us! Visit supplementexperts.net/contact-us to get started today!