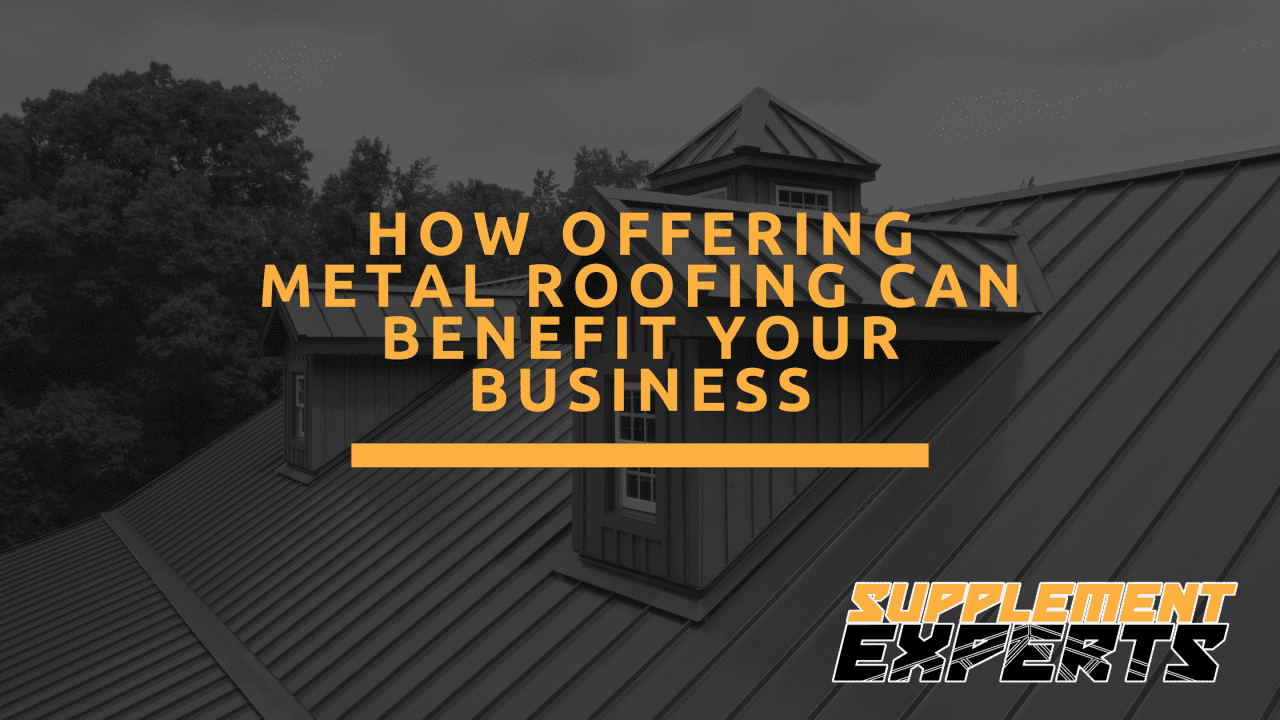 How Offering Metal Roofing Can Benefit Your Business
Traditionally, metal roofs were primarily used for commercial projects, and asphalt shingles were used for homes. However, metal is now becoming one of the fastest-growing roofing materials for both residential and commercial roofs. If your business isn't offering metal roofing, you could get left in the dust as homeowners are drawn to the efficient qualities of metal. 
The number of benefits from metal roofing makes excellent selling points to clients. Below are five reasons homeowners are drawn to metal roofs and why you should consider offering them to your customers.
The lifespan of a metal roof is the most significant benefit of having a metal roof. Metal is far more durable and long-lasting than traditional asphalt shingles. Compared to many other materials, metal roofs are known for their toughness, weather resistance, and customizable styling options. Metal roofs can last anywhere from 25 to 50 years. 
Maximum Protection Against the Elements
The surface of a metal roof is slippery, with little to no grip for snow or water to cling to. Rust-proof coatings help to prevent corroding or cracking from occurring. Metal roofs can withstand gusts of wind as strong as 140 mph! On top of that, if you encourage homeowners to install dark tones of metal roofing, it will quickly warm to the sun, encouraging snow to melt. 
Homes with metal roofs can save up to 30% monthly on cooling costs. Metal roofs efficiently reflect the sun's UV rays, which decreases the amount of heat transferred into the attic. This, in turn, lowers homeowners' electricity bills. In the summer, a roof deals with extreme heat, which soaks in and is transferred to the home's attic. This causes the home's AC unit to work overtime to cool it down. When homeowners choose metal as their material, their roof will be cool to the touch moments after the sun goes down—allowing their air conditioner relief after putting in overtime all day. This also results in a lower cooling cost. 
A significant reason why asphalt shingle roofs have a shorter lifespan is because they are prone to mildew, moss, and fungus. Installing a metal roof allows homeowners to forget about those pesky fungal attacks. Metal roofing also eliminates the threat of rodents, pests, raccoons, and other animals. Unlike asphalt or wood, metal is nearly impossible for them to break through and get into a home's attic. 
The fire resistance of a roof can make the difference between saving an entire home, especially for people living in wildfire-prone areas. Most metal roofing is considered Assembly-Rated Class A, meaning fire cannot penetrate the roofing assembly. This makes metal roof materials one of the most fire-resistant options on the market! 
About Supplement Experts
Supplement Experts offers expert advice and assistance in insurance supplementation for residential and commercial roofing projects, window replacement, siding replacement, and any painting project. Leave the stressful back and forth with insurance claims to us! Visit supplementexperts.net/contact-us to get started today!