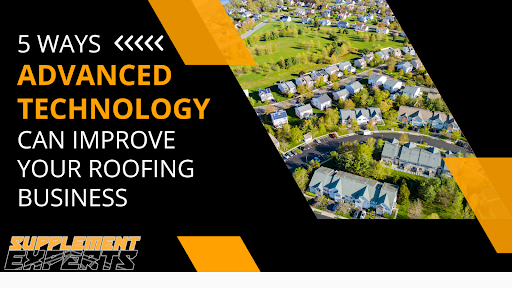 Five Ways Advanced Technology Can Improve Your Roofing Business
In this day and age, it's hard to imagine what it would be like to run your roofing business without having your smartphone or laptop. Technology allows us to communicate, track, and improve business operations like never before. It never stops developing and can help save time, improve efficiency, and boost finances. Take a look at these five examples of technology that can improve your roofing business. 
Correctly documenting claims is critical, especially regarding supplements and getting claims paid correctly. Drones have become one of the most talked-about technologies within the past few years.  Roofing businesses can use them to their advantage through aerial imagery. Aerial images of customers' homes are a great way to show owners what their roof looks like before, during, and after their roofing process. It also allows you to safely document damages in less time and without stepping on the roof!
A customer relationship manager is a software tool that allows you to track customers, jobs, production, and payments all from one place. CRM systems like JobNimbus can help make your company more organized, efficient, professional, and profitable. Plus, it lets your team know where each job is at during every process stage. Traditional processes using excel or files can be highly time-consuming and overwhelming to keep up with. With a CRM, everything is digital, and there are downloadable apps that allow you to have all of the information with you in the palm of your hand. 
The first step of every roofer's work is providing the customer with an accurate and fair quote before the process is started. You can simplify this step by installing an estimation software like Acculynx that helps you build an estimate in seconds! With features like live material pricing from the most prominent roofing product distributors, software like these lead to error-free and more accurate estimates for your clients. You can draw up an estimate quickly and accurately, even on-site, while the client waits. 
The overall process of dealing with claims takes a lot of time. When you think about how busy roofers get during storm season, it's no shock that contractors can get overwhelmed by the amount of paperwork they have to deal with. That is where we come in. At Supplement Experts, we help contractors in two main areas: get paid for all the work they are completing and get paid in a timely fashion. We take the day-to-day file managing off your shoulders so you can focus on your projects. By outsourcing your supplements, you save time and money, and we get revised estimates back about a week faster than the average contractor that supplements their own jobs. 
You can do more than rely on the news or your phone's weather app to reach customers needing restoration services after a storm. With software like GAF WeatherHub, you can see specific properties that have suffered from severe wind or hail storms. It provides accurate and interactive hail maps and weather data to help you be the first to their door after the storm hits. It features hourly forecasts, minute-by-minute rain times, live radars, and extended 45-day forecasts!
Innovation is exciting, and you shouldn't be scared to take advantage of the benefits that come along with it. By staying up-to-date with the latest roofing software and technology, you can make your business run more efficiently and continue to impress your customers! 
About Supplement Experts
At Supplement Experts, we offer expert advice and assistance in insurance supplementation for residential and commercial roofing projects, window replacement, siding replacement, and any painting project. Leave the stressful back and forth with insurance claims to us! Visit supplementexperts.net/contact-us to get started today!