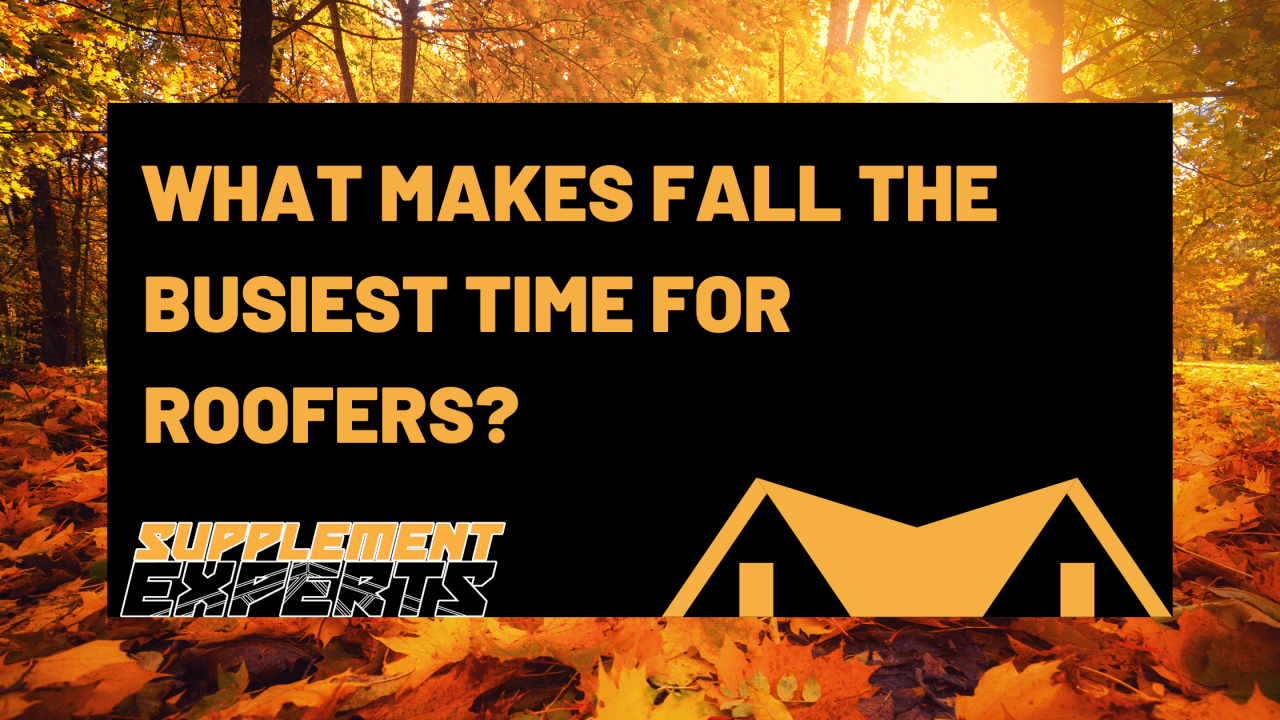 What Makes Fall the Busiest Time for Roofers?
School has started back up, Labor Day has passed, and Holidays are approaching. It is Fall! The busiest season for roofers is the end of Summer through Autumn. Is your business ready to take on the whirlwind of clients needing inspections, repairs, and replacements? Keep reading to learn why Fall is the busiest time for roofers. 
Most Storms Have Passed
Spring and Summer tend to bring with them loads of rainfall and storms. The months of wind, hail, tornadoes, and rain can significantly affect roofs. When the much-calmer weather of Fall comes around, people often choose this time to try and fix any damage received over the  last few months. The weather has cooled after the extreme Summer heat and tends to be relatively consistent. This allows workers to have longer and more productive days without worrying about severe weather or heat. Plus, this weather is best for shingles to set and seal effectively before the extremities of Winter come along.
Winter is Coming
Did you know that asphalt shingles can only be installed in temperatures above 40-45 degrees? This means every repair that needs to be done will try and squeeze its way into Autumn. Winter means one thing for many locations across the country: snow. Snow is favored by many for aesthetics, snowmen, and snowball fights, but the last thing you want is for it to be in your warm and cozy house. Therefore, to prevent any issues from spring and summer storms causing additional damage, , homeowners  opt for Fall as the time to ensure that their roof is 100% ready for Winter. The heating and cooling of your home accounts for nearly half the money you spend on electricity. Improperly sealed windows and doors aren't the only crooks of your heat; a bad roof can also be the cause!
Perfect Conditions
Working on big roofing projects in the Winter and the Summer can be brutal. It will take more time and strain to get the job done, whether due to extreme heat or cold. Although Fall weather can also get on the cooler side, it tends to be more uncomfortable than Winter. During the Summer, the temperature on roofs can reach up to 150 degrees! This causes a risk for the safety of your workers, and more breaks are needed. However, waiting until Winter causes difficulties installing shingles, and sometimes you simply won't be able to do it. Projects that could take weeks to complete in Summer and Winter can be completed in no time during the Fall due to its almost perfect weather. 
This Fall is sure to be a busy season for all roofing companies. Ensure you're not bogged down by expensive, wasteful, slow supplement processes. Consider outsourcing your supplements to the experts so you can focus all your time and energy on grinding out projects! 
How We Can Help
At Supplement Experts, we offer expert advice and assistance in insurance supplementation for residential and commercial roofing projects, window replacement, siding replacement, and any painting project. We'll help ease the stress of roofing season by getting claims back a week faster than businesses that supplement in-house. Leave the stressful back and forth with insurance claims to us! Visit supplementexperts.net/contact-us to get started today!