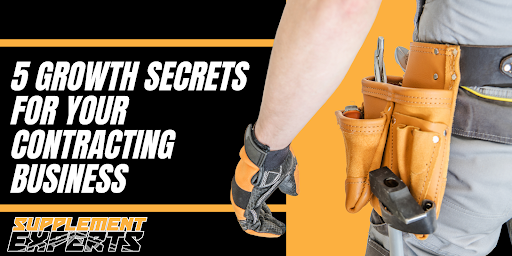 5 Growth Secrets For Your Contracting Business
All driven business owners desire growth for their company. Sometimes you may find your company at a standstill and be unaware of how to get the ball rolling again. If this is the case for your business, here are five secrets that you need to know!
Outsourcing vs. DIY
A marker of successful contractors is knowing which business elements should be outsourced and which should be completed in-house. An excellent way to see your business grow is to reduce problems taking away time that could be spent focusing on generating revenue. You can outsource administrative tasks, such as insurance supplementation, to a trusted industry partner like Supplement Experts!
Closing Profit Holes
Money left behind or missed out on is detrimental to your business and its growth. Mishandling or slipping up on supplementing activities results in an extreme amount of profit lost. Ensuring that your company gets the most out of your supplement process is vital in facilitating growth.
Staff
When storms pass through and there is an increase in demand for your services, having a highly-trained staff is essential. Your goal should always be to hire revenue-generating staff, so look to trusted partners when your business is overwhelmed. It could be more beneficial to outsource certain services rather than hire people who do not fit your business.
Training
The driving factor of growth is people who are constantly training to improve. By advancing your team, more profits and efficiency will arise. It is impossible to experience business growth without consistently providing proper and thorough training to your team. 
Understand Best Practices
Asking for guidance can be difficult and make you feel inadequate, but finding your way in the industry can be highly challenging without it. It is essential to find industry partners that foster the best practices. Trusted partners can guide you and walk you through their experiences.
About Supplement Experts
Supplement Experts is an insurance supplement company in The United States that exists to assist contractors in two main areas:
Get paid for all of the work that they are completing, and

Get paid in a timely fashion.
Do we want to help your business grow, interested in outsourcing your supplementation? Contact us today!