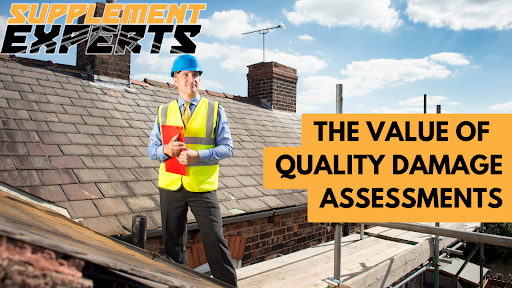 The Value of Quality Damage Assessments
The damage that your home's roof might have experienced through a storm could be hazardous. The scariest part of this is that most homeowners may not be fully aware of all damage that may have occurred. This is why providing homeowners with a thorough damage assessment is extremely important. 
When a quality damage assessment is completed, it sets up a more successful outcome through claim filing, insurance adjustments, and supplementing. 
Claim Control
A properly executed Damage Assessment paired with photos is the first time a homeowner will start to understand the full extent of their loss. Having documentation like this helps bring integrity to the filing process and helps create a foundation independent of outside influences. 
It is always beneficial to the customer to have an inspection before a claim is initiated  so that unnecessary claims can be avoided if there is no damage, or the amount is below their deductible.
Insurance Adjustment
Your in-depth damage assessment can assist in determining adjustments. It will help ensure that the adjuster's scope and your scope are similar, ensuring that what is relayed to the homeowner is more accurate. 
Storm damage is very subjective, and some damage may not have been seen during an inspection by your insurance company. This is where the pictures and documentation come along to help prove that supplementation will be needed if situations like that occur. 
Supplementing
The key to effective supplementing is documentation. Having your damage assessment and photos will serve as the foundation for supplementing. Suppose you completed one on the initial inspection, presented it to the homeowner, and communicated it to the adjuster. In that case, you can use it to cross-check the adjuster's estimate and add items that they might have missed. 
A quality damage assessment is vital to guaranteeing that all damages are covered adequately. It serves as a checklist throughout each step of the claims process. This is why performing a meticulous inspection from the get-go will save you from mishaps and make sure that every damage is covered. 
Benefits Gained by Completing a Thorough Damage Assessment
A clear and usable picture of the scope for every job

A template for estimate creation and supplementing

Leverage during adjustments 

Win more disputes over differences in scope and price

Reduce the number of visits to the job site for capturing information

Increase the average amount of money earned the supplementing
For more information on supplementing or to see how we can make the process easier for you, contact us today!