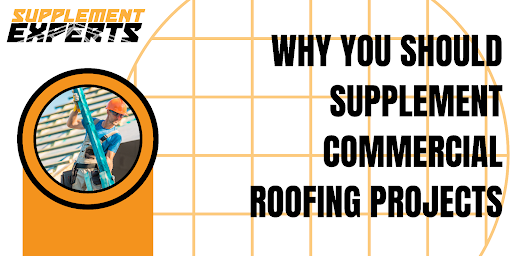 Why You Should Supplement Commercial Roofing Projects
If you aren't supplementing your commercial projects, you're not maximizing your profits. Commercial roofing requires more labor and materials and usually takes up more surface area than residential. 
Here are a few reasons why you should be supplementing your commercial roofing projects:
Increase Profits
Like supplementing residential claims, when you supplement commercial claims, you're able to increase your profit and ensure that you make more money on what truly matters: the job itself. Supplementing helps ensure that you are paid for the work and time you are putting in.
With Supplement Experts, you will be able to focus on your projects while we handle the tedious supplementation process. This leaves your company earning more profit and able to spend more time on the project.
Guarantee You're Doing the Best Work Possible
It's easy for an adjuster to overlook certain aspects of loss on a job, especially without a roofing supplement. Their job  estimates the scope of the damage, while supplementing a project helps guarantee that none of the damage or amount of materials needed are miscalculated. You will confidently get all of the necessary supplies and preparation required to complete your project as best as possible.
When it comes to commercial roofing, you're most likely covering more area. Because of this, you'll need more materials and more time than a residential project.
Peace of Mind
You don't want to have to deal with the added stress of needing more materials for an insurance claim or figuring out how to write an estimate. By supplementing your commercial claims, you gain peace of mind knowing that your claims are accurately supplemented. You'll be able to spend more time and energy working with customers instead of making claims.
Why Supplement Experts?
We are averaging an increase of 34.4% in revenue for residential roofing claims and even higher for commercial roofing claims. On top of that, Supplement Experts are getting revised insurance estimates about a week faster than the average contractor that supplements their jobs. That increase in revenue and decrease in overhead is life-changing!
Fill out our brief form to get in contact with us for your next project! supplementexperts.net/contact-us